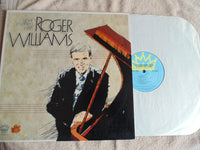 Fibits
Roger Williams LP, Your Evening with, Fibits: LP, CD, Video & Cassette Store
Label:  Imperial House Records - NU9680

LP Condition:  Near Mint

Cover Condition:  Near Mint. (please view pictures)
Paper Sleeve:  Excellent.
Additional comments: All of my albums are from my personal collection and the vinyl almost always is in beautiful condition, unless otherwise stated.  Most of the vinyl is in MINT condition but I usually grade it NEAR MINT, just in case I overlooked a spot.  All of our vinyl is guaranteed! 
This is not a promotional version, no promo holes, slices, or marks.
1     Lady     
2     Best Thing That Ever Happened To Me     
3     You Needed Me     
4     September Song     
5     Nadia's Theme (The Young And The Restless)     
6     Feelings     
7     Music Box Dancer     
8     Autumn Leaves     
9     Born Free     
10     Lara's Theme (From Dr. Zhivago)     
11     Misty     
12     The Way We Were     
13     Stardust     
14     More (Theme From Mondo Cane)     
15     Spanish Eyes     
16     Impossible Dream
Guaranteed to play perfectly.