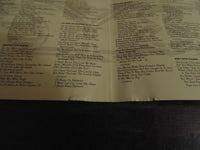 Fibits
Y&T CD, In Rock We Trust, Original A&M Pressing
Cd, case and inserts are in mint / near mint condition.  There is an indention on the front insert from one of the tabs (pictured). Original A&M Records pressing.  This is not a promotional version, no holes, slices for marks.
ROCK & ROLL'S GONNA SAVE THE WORLD

LIFE, LIFE, LIFE

MASTERS AND SLAVES

I'LL KEEP ON BELIEVIN' (DO YOU KNOW)

BREAK OUT TONIGHT

LIPSTICK AND LEATHER

DON'T STOP RUNNIN'

(YOUR LOVE IS) DRIVIN' ME CRAZY

SHE'S A LIAR

THIS TIME
Guaranteed to play perfectly.